"Entrepreneurship is a state of mind. It's a passion for wanting to be your own boss,
for finding a new way to solve a problem or meet a need. I spent years leading my own business with a focused devotion to meeting customers' needs, so I can completely relate to students who feel that same drive and desire to create."
Dr. Susan Fiorito
Dean of the Jim Moran College of Entrepreneurship
---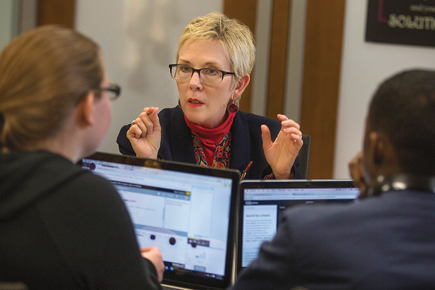 Dr. Susan S. Fiorito is the Dean of the Jim Moran College of Entrepreneurship. She also serves as a Jim Moran professor of entrepreneurship and Entrepreneur in Residence.  Fiorito manages all activities of the new college, the staff, faculty and Entrepreneurs in Residence and oversees the development of curricula. She serves on the Academic Deans' Council and reports directly to the provost.
Fiorito has the business acumen needed to lead entrepreneurs of tomorrow. She began teaching in the FSU College of Human Sciences in 1990 in the Department of Retail Merchandising and Product Development. In 2012, she began teaching entrepreneurship in the College of Business, where she was appointed interim chair of the Department of Entrepreneurship, Strategy and Information Systems in 2013 and permanent chair in 2014.
In addition, Fiorito's research and business background includes being a hands-on young entrepreneur, starting up four retail boutiques that specialized in leather, jewelry and denim. She has received research grants totaling nearly $170,000 and taught summer study abroad courses in Milan, Paris and London.
Fiorito is the recipient of three University teaching awards, and was selected as an inaugural Jim Moran Institute Faculty Fellow in 2010. She was the first female president of the American Collegiate Retailing Association and has served on the Florida Retail Federation's board since 2003.
• 850 Magazine: Entrepreneur–in-Chief 
• Susan Fiorito – Vitae (PDF)